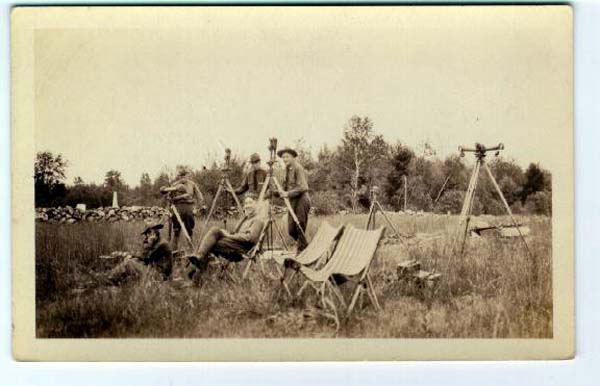 What is a Land Surveyor?
Land Surveyor is the title given to an individual that has met the requirements of the licensing board of the state.  Those requirements include education, experience, and successfully passing tests administered by the state.
What is a property line?
A property line, or the property boundary to a Land Surveyor, is the perimeter of the land described in your deed.
Why does it seem to take the surveyor so long to locate my property boundary?
The Land Surveyor collects evidence necessary to be confident that he is retracing the property boundary.  Sometimes that evidence is hard to find or missing. The Land Surveyor also collects evidence of the surrounding properties to see how it all "fits" together.
What is a Retracement Survey?
A Retracement Survey (aka Boundary Survey) serves to retrace the existing boundary property description in its entirety. After the field crew finishes the field work a drawing of the Retracement Survey is then produced by a Professional Land Surveyor. A Retracement Survey does not create new lot lines; it serves to retrace the existing legal description of a property or properties.
Why should I have a Retracement Survey done?
You should have a Retracement Survey done to verify and monument your existing property boundary.  This is particularly important if you are placing a fence or structure on your property.
What is a subdivision plat?
MILLER LAND SURVEYING has the experience and knowledge of state and local regulations along with an understanding of drainage and utility layout for the development of your single home site or multiple lot subdivision. The subdivision and platting of existing tracts of land into smaller parcels, or abandonment of existing property lines to create a larger tract. Once the plat of survey is recorded with the county recorder's office, the lot designation for a particular parcel becomes its legal description, suitable for conveyance. These types of surveys must meet certain state regulations, county zoning regulations, local zoning ordinances and other land use/subdivision regulations. Since most subdivisions are created from a larger tract of land, a Boundary Line Survey of your parcel may be required prior to its division.
Where can I find a copy of my subdivision plat?
A copy of your subdivision plat can be obtained at the Recorder's Office in the county where you live.
What is a Section Corner?
A Section Corner is a part of the U.S. Land Survey System.  Here in Indiana the original government surveyors established a system of rectangular surveys in the 1830's to the 1860's.  They monumented the location of each Section Corner and Quarter Section Corner along the outside of each section.  Throughout the years Land Surveyors have tried to perpetuate that same location.
What is an Elevation Certificate?
A land surveyor measures the elevation of a building and reports findings on an Elevation Certificate how far above or below the base flood elevation it is. The Flood Elevation Certificate reports the relative vertical distance above or below a base flood elevation from a Flood Insurance Map (FIRM). The FIRM's were produced by the Federal Emergency Management Agency (FEMA) of our federal government for use in the National Flood Insurance Program. The FIRM's were designed to help determine whether a property or building were in a special flood hazard. The Elevation Certificate may be used to support a LOMA request.
What is a Surveyors Location Report?
A Surveyors Location Report (aka Mortgage Survey) is primarily used for residential properties to obtain title insurance. The title and lender must ensure that the residence actually lies on the subject property. This kind of survey is not a Boundary Survey. The minimum standards for a boundary survey are much stricter than those for a Surveyor Location Report.
What is an Original Survey?
A survey that is executed for the purpose of locating and describing real property that has not been previously described in documents conveying an interest in real property.
What is an ALTA Survey?
An ALTA/ACSM Land Title Survey is a survey that addresses "specific needs, peculiar to title insurance matters, which require particular information for acceptance by title insurance companies when said companies are asked to insure title to land without exception as to the many matters which might be discoverable from survey and inspection and not be evidenced by the public records." The American Land Title Association (ALTA) and National Society of Professional Surveyors, a member organization of the American Congress on Surveying and Mapping (ACSM), jointly established details and criteria for standards regarding these types of surveys. An ALTA/ACSM Land Title Survey will either be considered a Retracement Survey or an Original Survey. The Indiana Statute governing these two types of surveys will still be met when performing an ALTA/ACSM Land Title Survey.
What is Construction Surveys?
Construction firms or developers will call MILLER LAND SURVEYING to pin-point the horizontal and vertical locations of buildings, roads, utilities, landscaping, lighting, sidewalks, etc., prior to and during construction. Our experience and knowledge of architectural and engineering plans will insure accurate layout of your improvements.